5-Star Packing Clay
Introducing SAF™ 5-Star™ Packing Clay!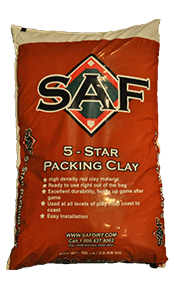 The wear and tear around mound and plate areas can create daunting work for groundskeepers and coaches. With the addition of our SAF™ 5-Star™ Packing Clay, Turface Athletics provides another option that delivers high performance and value when constructing and maintaining mound and plate areas.
Competitively priced, SAF™ 5-Star™ is a premium mound and plate clay that stands up to high levels of wear and traffic. A high-density red clay with a high silt content, SAF™ 5-Star™ comes pre-moistened and ready to use-just open the bag and pour! It's durable enough to handle larger athletes without the challenges that come with managing other clays on the market.
5-Star™ Packing Clay is a competitively priced, high-performance option for your mound and plate areas:
Clay-silt mixture bonds quickly and packs tightly to help streamline installation
Highly durable, long-lasting performance and wear resistance
A good fit across different geographies and climates and suitable for all levels of play
Available in bulk truckloads; 50-lb. bags or 2000-lb. super sacks
DOWNLOAD THE SAF 5-STAR PACKING CLAY SALES SHEET
To see the full line of products available from Southern Athletic Fields, visit SAFDIRT.com.
Check out this two-minute time lapse of a mound construction – they make it look so easy!