Turface Elite Products
Specially Developed To Deliver Professional Results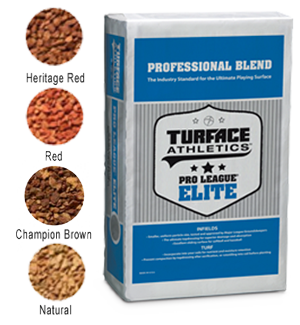 Turface® Pro League® Elite reflects the highest professional standards in quality, performance and lasting satisfaction.
Turface® Pro League® Elite
Pro League Elite features a tightly screened, uniform mix of particles that are specially designed for the ultimate fielding and sliding surface. Pro League Elite is highly durable on an infield surface while providing outstanding absorption for rainout protection, and preserving an optimum balance of moisture in an infield mix.
Patented particle sizing ideal for professional level of play
Designed to assure the most consistent fielding and sliding surface
High level of durabilty, and absorption for maximum rainout protection
Download the Pro League Elite Spec Sheet